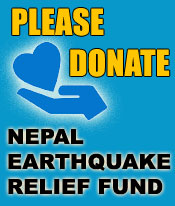 Two devastating earthquakes in Nepal have claimed more than 8,000 lives and destroyed countless homes. Many of the country's historic sites have been severely damaged, including temples and monuments. Kathmandu reportedly shifted 3 m (10 ft) to the south in just 30 seconds. Between 700 and 1,000+ people were on or beside Mount Everest when the earthquake struck. The earthquake triggered several large avalanches on and around the mountain resulting in severe casualities there as well.
INA would like to offer their heartfelt condolences to all Nepalese living in Nepal and abroad. INA has been working tirelessly in raising funds from generous donors to extend helping hands for the relief and rehabilitation in the affected regions.
As steps for immediate relief, INA have collaborated with CNI and MaHa Sanchar to provide relief materials (food, water and shelter) to most affected areas and also has participated in long term rehabilitation programs for those affected through the earthquake. Please click here to view acknowledgement letter by CNI. Our releif team is handling the collection and dispatch of the relief materials through close coordination with "Central Relief and Supply Management Committee" under the Chairmanship of Minister, Ministry of Commerce and Supplies of Government of Nepal.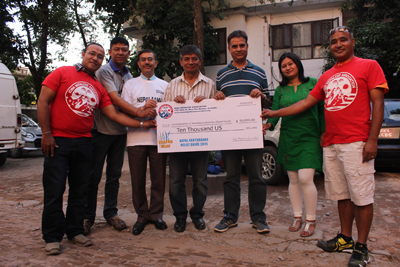 INA representatives along with CNI and MaHa Sanchar have participated in distributing relief materials to some of the hard-hit districts among Sindhupalchok, Nuwakot, Dhading, Rasuwa, Dolakha. Also other areas where relief material has been distributed are Bhakundesi of Kavre, Khasikhanda Municipality of Kavre at Bhakundebesi, Tarkeshwor Municipality – Tinpiple, Gokarneshwor Municipality and Kathmandu University Hospital. Please click here to view details on the relief initiations.
Please visit http://cnind.org/ for more information.
We are raising more funds and your help is urgently needed to provide critical relief to families in Nepal affected by the earthquake.
Please click here for donating via Paypal. You can also send your donation check to Iowa Nepalese Association (Nepal Earthquake Relief Fund), 1127 90th St, West Des Moines, IA 50266.
Please note that you are donating for a cause to 501(c)(3) organization, you can deduct this donation from your taxes. Tax ID for Iowa Nepalese Association is 46-2263203.
View donors list by clicking here. (Last updated date and time: 4/26/2016 11:00 AM)